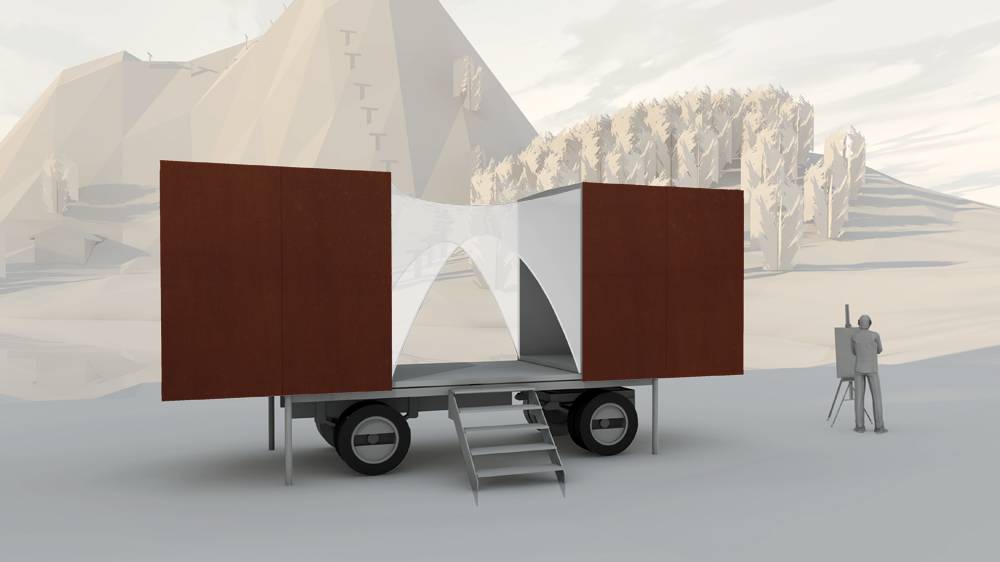 Project information
submitted by
Susan Schür
Co-Authors
Giovanni Amato, Maximilian August, Constanze Barbuceanu, Marie-Luise Budszuhn, Lorenzo Ceccon, Gregory Davaud, Vitus Gerlach, Caroline Haase, Thomas Heyke, Miriam Hiltner, Jacqueline Kunze, Benoít Margez, Pier Paolo Palazzetti, Marta Plaga, Theresa Schirmer, Jean-Loup Tscheulin, Katharina Wittke
Mentors
Prof. Rainer Gumpp, Dr.-Ing. Stephan Schütz, Christina Much, Henry Haase , Olaf Kammler,
Faculty / Section:
Architecture and Urbanism

Degree programme:
Architecture (Master of Science (M.Sc.))
Type of project presentation
Exhibition
Semester
Summer semester 2016
Exhibition Location / Event Location
Freifläche 1 / outside 1 (Zwischen Hauptgebäude, M18 und Campus.Office))
Belvederer Allee 1a - Kubus
Participation in the Bauhaus Essentials and the GRAFE Kreativpreis 2023
Links
http://bit.do/mobile-immobilie

Contributors:
Förderung durch den Kreativfonds 2016

Experimentelle Werkstätten Architektur
Project description online
Die mobile Immobilie bietet einem Landschaftsmaler sowohl einen zurückhaltend gestalteten Atelierraum als auch einen flexibel nutzbaren Wohn- und Schlafbereich, mit dem sich der Künstler flexibel zu seinen Sujets bewegen kann. Zwei Kuben bilden einen künstlerischen Allraum, dessen Volumen mithilfe einer Teleskopmechanik um 50% vergrößert werden kann. Der Zwischenbereich wird von einer parametrisch berechneten Membranfläche überspannt und bildet eine großzügige Eingangssituation, die auch als Terrasse dient. Bündig eingelassene Regalwände aus Wabenplatten bieten Stauraum und nehmen ein Bett, notwendige Küchenutensilien und bewegliche Rollmöbel auf. Dem Künstler stehen zwei unterschiedliche Konfigurationen der mobilen Immobilie zur Verfügung. Während der künstlerischen Schaffensphase sind sämtliche Einbauten eingeklappt und zurückgefahren. Dann bietet der weiße Innenraum dem Maler einerseits eine zurückhaltende Arbeitsumgebung und andererseits einen praktikablen Ausstellungsraum für seine Werke. In der restlichen Zeit verwandelt sich dieser Raum in einen vollwertigen Wohn- und Schlafbereich.

Das ausschließlich von Studierenden geplante und realisierte Projekt zeigt auf, mit welchen simplen Methoden eine architektonische Formgebung für augenscheinliche Gegensätze gefunden werden kann. Zwei strenge Volumen kommunizieren auf verspielte Weise miteinander und schaffen einen Raum der Kontraste - geradlinig trifft organisch, hart trifft weich, Verschlossenheit trifft Flexibilität.
Email:
stephan.schuetz[at]uni-weimar.de
Exhibition Location / Event Location