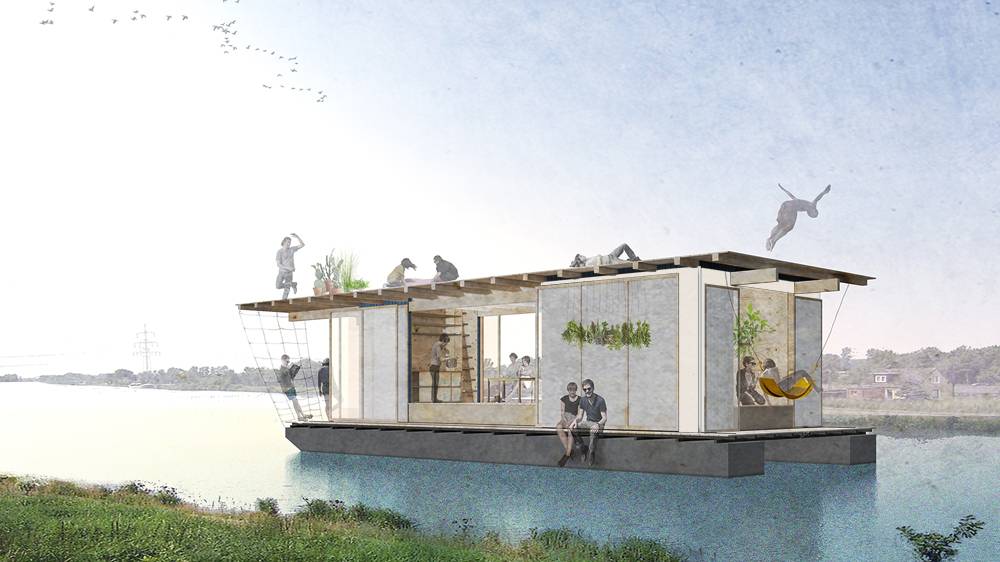 Susan Schür
Andreas Brall, Marie-Luise Budszuhn, Magdalena Falterer, Anna Gherardi, Felix Hake, Miriam Hiltner, Toni Kunau, Jae-Young Lee, Paul Johann Magnus, Thuy Duong Phan, Iga Reichel, Janna Schmidt, Ömer Türkmen, Jakob Tuseynski, Ben Weiser
Professor Rainer Gumpp, Dr.-Ing. Stephan Schütz, Marcel Ebert M.Sc.
:
Architecture and Urbanism

:
Architecture (Master of Science (M.Sc.))
Exhibition
Summer semester 2017
Freifläche 1 / outside 1 (Zwischen Hauptgebäude, M18 und Campus.Office))
https://www.uni-weimar.de/de/arc...

:
Traumschüff e.G.
Stell dir vor, du sitzt am Ufer und vor dir schwimmt ein Theater: Das Traumschüff. Es ist ein Transportmittel, das Träume zwischen Stadt und Land hin- und herbefördern soll - ein Theater im Fluss. Es macht ein schwimmendes Floß zur Bühne und auch zur Behausung für die Schauspieler. Das Traumschüff ist ein beweglicher Unterhaltungsraum im Freien. Es ist eine Spielstätte für auf dem Wasser fahrende Gaukler und erreicht Orte, an die sonst vielleicht kein Theater kommen würde. Es soll mehr als nur unterhalten. Es soll eine Gelegenheit bieten, sich zu treffen und miteinander ins Gespräch zu kommen – vor, während und nach den Vorstellungen.
Entworfen und gebaut wurde das Traumschüff von Masterstudierenden der Professur Entwerfen und Tragwerkskonstruktion der Fakultät Architektur und Urbanistik. Zur summaery 2017 wird es vor dem Hauptgebäude der Bauhaus-Universität ankern und die Schauspieler der "Ersten deutschen Theatergenossenschaft" ein Stück zur Aufführung bringen.
13.07.2017 17:00 – 13.07.2017 18:10
Freifläche 1 / outside 1 (Zwischen Hauptgebäude, M18 und Campus.Office)),
"Bibergeil" von Nikola Schmidt
Thomas (Landwirt, alleinerziehend) und Biber (Landschaftsarchitekt, vier Kinder) bewirtschaften dasselbe Maisfeld. Thomas sät den Mais, der Biber bewässert, äh… überschwemmt ihn. Dass Thomas das streng geschützte Tier nicht stören darf, sorgt für gehörigen Frust. Als Tochter Kati genug von seinen Launen hat, beschließt Thomas, dem Ärgernis ein Ende zu setzen und den nagenden Nachbarn erschießen zu lassen. Nur ist Kati eben nicht bloß rebellisch, sondern auch noch Tierschützer