VIELEN DANK FÜR IHRE AUFMERKSAMKEIT!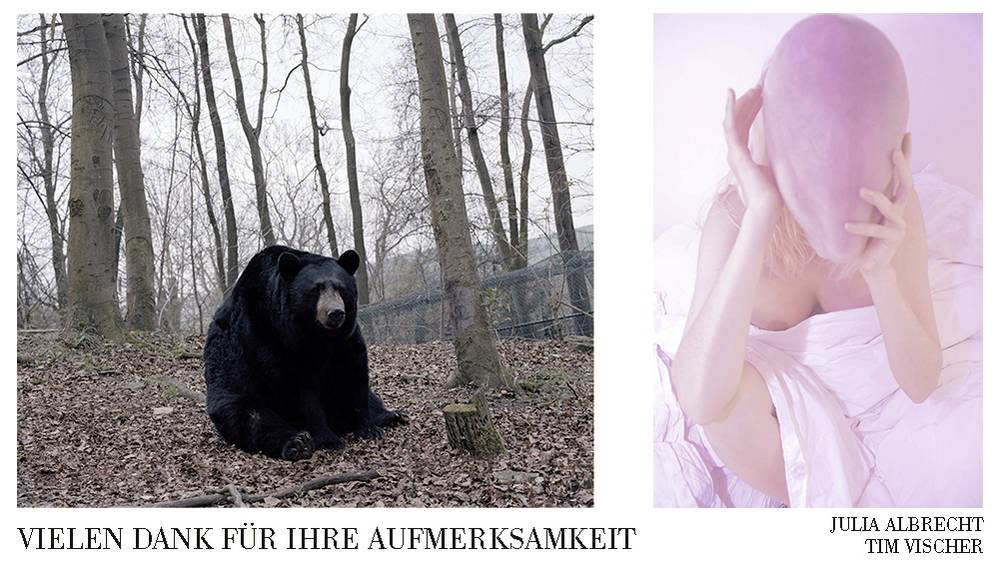 Project information
submitted by
Julia Albrecht
Co-Authors
Tim Vischer
Mentors
Nina Röder
Faculty / Section:
Art and Design

Degree programme:
Media Art and Design (Bachelor of Fine Arts (B.F.A.)),
Media Art and Design - Study programme Integrated International Media Art and Design Studies (IIMDS) (Master of Fine Arts (M.F.A.) and Master of Arts (M.A.))
Type of project presentation
Exhibition
Semester
Winter semester 2016/17
Exhibition Location / Event Location
Freifläche 3 / outside 3 (zwischen VDV und Amalienstraße 13)
(Fassade Außenfläche )
Participation in the Bauhaus Essentials and the GRAFE Kreativpreis 2023
Project description online
"Sensationalism sells: Don't let the facts get in the way of a good story."
Tiger Woods

Verändern Dinge ihren Wert je nachdem, in welchem Kontext sie gezeigt werden? Hängt das Interesse der Menschen von der Veranstaltung ab? Rücken Missstände in den Hintergrund, sobald es um Vergnügen geht?

In zwei fotografischen Positionen versuchen Julia Albrecht und Tim Vischer die Verdrängungsmechanismen der heutigen Gesellschaft zu hinterfragen.
In der Arbeit "Seniorenresidenz" begibt sich Julia Albrecht auf die Spuren nach dem Spektakel. In dem letzten halben Jahr suchte sie ehemalige Schaubären auf und untersuchte die Relikte dieses absurden Kuriosum. Auf dieser Reise arbeitete sie den fast in Vergessenheit geratenen sozialen Status und Prestige des Mythos Bären auf. Dabei erfuhr sie, wie das Ansehen dieser in den letzten Jahrzehnten stetig abnahm und sich sogar ins Negative kehrte.
Die Arbeit "Dissimilation" spiegelt die individuelle Sicht von Tim Vischer auf die verschiedenen Sexualitäten und ihrer Verhaltensweisen wider. In seiner Serie arbeitet er seine persönliche Distanzierung vom weiblichen Körper auf, sowie die Entfernung vom heteronormativen Verhalten und dem überspitzen Auftreten der homosexuellen Community. In Anlehnung an eine Trivialisierung seiner persönlichen Empfindungen, greift er die Ästhetik des Pinkwashings auf, die aus der Visualität der Post-Internet Bewegung entstanden ist, um seine Aussage weitergehend zu abstrahieren.
Exhibition Location / Event Location