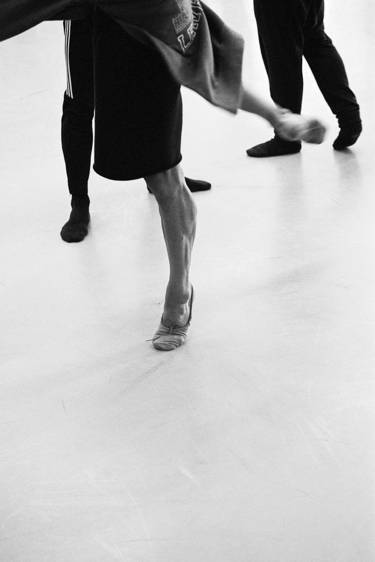 Project information
submitted by
Isabelle Castéra
Co-Authors
Mentors
Prof. Hermann Stamm
Faculty / Section:
Art and Design

Degree programme:
Visual Communication (Bachelor of Arts (B.A.))
Type of project presentation
Exhibition
Semester
Summer semester 2018
Exhibition Location / Event Location
Steubenstraße 8a - Limona
Participation in the Bauhaus Essentials and the GRAFE Kreativpreis 2023
Project description online
Long-term photo reportage about the »Leipziger Ballett«

I would like to dedicate myself to the visual language of the ballet and develop a long-term photo reportage about the dancers of the ensemble at the »Leipziger Ballett«. Therefore I accompany the dancers quietly during the rehearsals, as well as behind the stage and during a performance photographically and work discreetly with a quiet analog 35mm camera, which does not occupy much space.

In doing so, I imagine making some minimalist drawings as movement studies in addition to the photos – which are quite simply, consisting of only a few lines and dots on a white background. On the basis of these analytical drawings I hope to get kind of a deeper understanding of the movements and their inner emphasis. Sitting there and watching with the utmost concentration and delicate lightness as the brush touches the surface of the paper makes me think of the ballet when a dancer in the top dance touches the ground. In addition, I am looking for a form of a visual translation of the photographs into a visual language remained at the point, the line and the circular form that creates a link back to the Bauhaus Movement in Weimar.
Exhibition Location / Event Location