Gellenkirche Hiddensee – Ein musischer Erlebnisort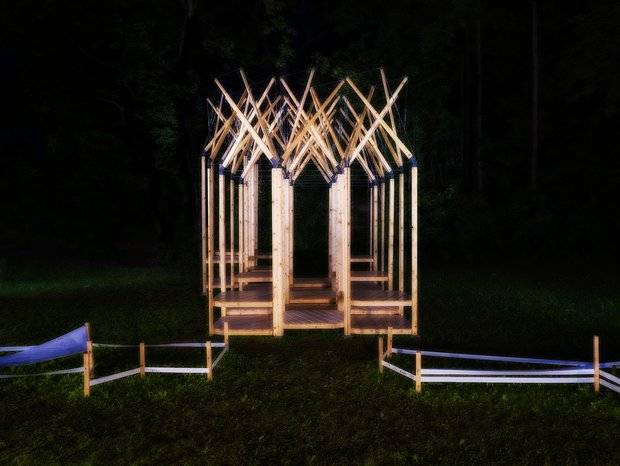 Luise Nerlich
Charlotte Ahrendt, Emil Tuffner, Tom Behammer, Julia Huber , Gerrit Müller-Scheessel, Robine Juhas Julian, Pracht Juan Pablo Fernanadez,
Prof. Bernd Rudolf, Dr. Luise Nerlich
:
Architecture and Urbanism

:
Architecture (Bachelor of Science (B.Sc.))
– Other –
Summer semester 2018
Geschwister-Scholl-Straße 8 - Hauptgebäude / main building
(002)
:
Freundeskreis der Bauhaus-Universität Weimar, Placcua Hochschule für Tanz, Dresden
Pfarrer Dr. Konrad Glöckner, Hiddensee, Reederei Weisse Flotte Hiddensee, Fuhrmannshof Neubauer, Hiddensee
In Erinnerung an die ehemalige Gellen-Kirche auf der Insel Hiddensee entstand in der Nähe zu deren ursprünglichem Standort ein temporärer Erlebnisraum, der die Naturwahrnehmung mit individuellen und gemeinschaftlichen musischen Erlebnissen anreichert.

Grundlage dafür war eine kritische Reflexion der Entwurfsergebnisse des ersten Semesters, die mit alternativen entwurfsmethodologischen Strategien hinterfragt werden. Optimierungskriterien sind dabei das Wandlungspotential der temporären Mikroarchitektur in verschiedenen Synchronitäten, Materialresistenz, Montagefreundlichkeit, Naturnähe, Nachhaltigkeit dank einer Einbettung in existierende Kreisläufe und ein schonender Umgang mit allen Ressourcen. Aufmerksamkeit und Verträglichkeit relevanter Ereigniskulturen, die Berücksichtigung differenzierter Nutzergruppen und deren Schnittmengen, Anschlussfähigkeit an bestehende Nutzungsmuster des Ortes u.a.m. dienen dem schrittweisen Entwurfsfortschritt bis zur Realisierungsreife.

Das Resultat des Entwurfes ist ein Prototyp im Maßstab 1:1, der im Rahmen der Summaery 2017 in Weimar präsentiert wurde.
Im Sommer 2018 wurde die Gellenkirche nach Hiddensee gebracht, wo sie an drei verschiedenen Orten Aneignungen erfuhr. Im Rahmen der Summeary 2018 werden fotografische und filmische Arbeiten gezeigt, die in der Woche auf Hiddensee entstanden.