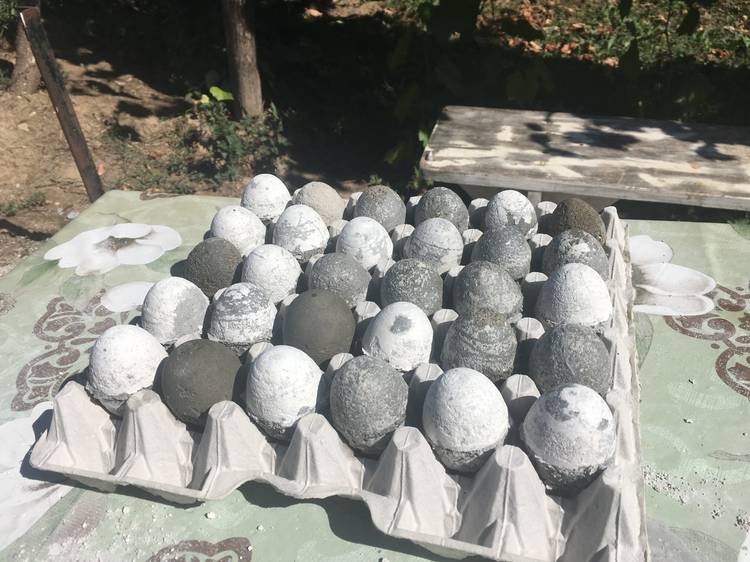 Anke Hannemann
María Constanza Carvajal, Ahram Chae, Devadeep Gupta, Nikola Kekerović, Stefan Lesueur, Asha Lester, Maedeh Nassouri, Yael Peri, Elham Asadpour Rahimabadi, Iskin Yağmur Ruzgar, Nora Spiekermann, Edoardo Tedde, Daniel Theiler, Astrid True May, Jakob Wirth
Prof. Danica Dakić, Anke Hannemann, Ina Weise und Jirka Reichmann (Koordination)
:
Art and Design

:
Public Art and New Artistic Strategies (english) (Master of Fine Arts (M.F.A.))
Performance
Summer semester 2018
Freifläche 9 / outside 9 (Mensa-Innenhof)
BAUHAUS DINNER WITH Liz Bachhuber

For the summaery edition of BAUHAUS DINNER WITH..., our guest, the artist and professor, Liz Bachhuber will open the evening with a talk about her artistic work, her over 20 years of experience in teaching art and her many interesting professional interdisciplinary collaborations. The students of the program will design an artistic menu and show works of their own in relation to our guest and our summer semester project CHE BELLA BRUTTA! - BAUHAUS GOES BOCHUM.

BAUHAUS DINNER WITH... is a performative dinner and talk format by the MFA-program »Kunst im öffentlichen Raum und neue künstlerische Strategien/Public Art and New Artistic Strategies«.

When: Friday (13th july), 5 pm
Where: Mensa, inner courtyard

13.07.2018 17:00 – 13.07.2018 23:00
Freifläche 9 / outside 9 (Mensa-Innenhof),
BAUHAUS DINNER WITH ...
For the summaery edition of BAUHAUS DINNER WITH..., our guest, the artist and professor, Liz Bachhuber will open the evening with a talk about her artistic work, her over 20 years of experience in teaching art and her many interesting professional interdisciplinary collaborations. The students of the program will design an artistic menu and show works of their own in relation to our guest and our summer semester project CHE BELLA BRUTTA! - BAUHAUS GOES BOCHUM.