Praxiswerkstatt Markt- und Marketingforschung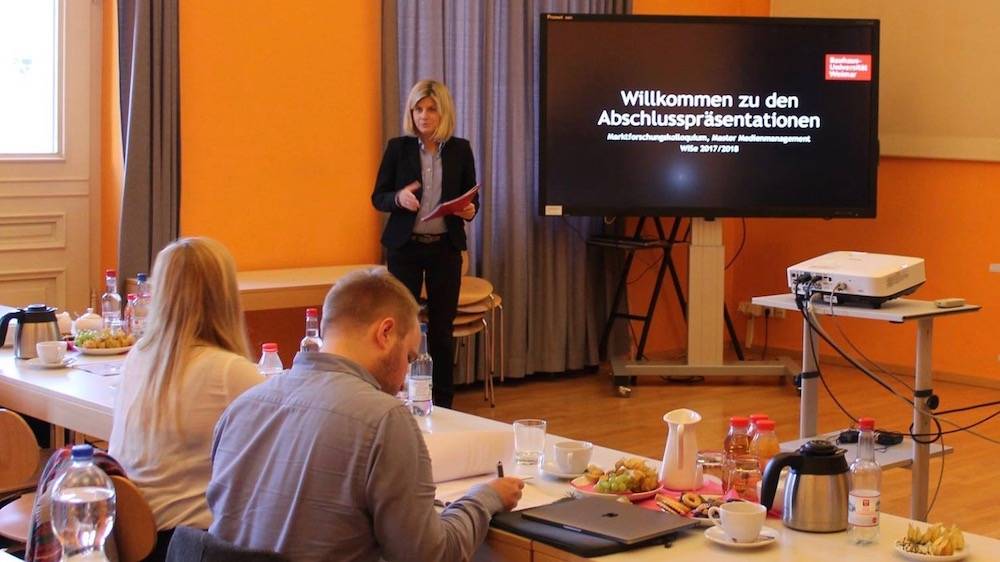 Project information
submitted by
Timo Janson
Co-Authors
Studierende des 2. Semester Medienmanagement M.A.
Mentors
Prof. Dr. Jutta Emes, Anne Jahn, Timo Janson
Faculty / Section:
Media

Degree programme:
Media Management (Master of Arts (M.A.))
Type of project presentation
Research project
Semester
Winter semester 2017/18
Exhibition Location / Event Location
Links
Project description online
40 Studierende des Master-Studiengangs Medienmanagement haben in enger Zusammenarbeit mit sechs Praxispartnern aus unterschiedlichsten Branchen die vermittelten Theorien des Marketings im praktischen Kontext angewandt und eigene Marktforschung betrieben. Die Ergebnisse wurden unter Anwendung multivariater Analysemethoden (Faktor-, Cluster- und Regressionsanalyse) ausgewertet und basierende auf den Ergebnissen Handlungsempfehlungen und Marketingkonzepte erarbeitet und vor den Praxispartnern präsentiert.

Neben dem Technologieweltkonzern Philips Healthcare, dem deutschlandweit bekannten Online-Retailer babymarkt.de wurde auch eine Fragestellung des lokalen Start-Ups HolzDesignPur aus Jena bearbeitet. In Kooperation mit der Lichtwerkstatt Jena wurden die Persönlichkeitsprofile von sogenannten "Makern" untersucht. Für das Klassikfestival Kissinger Sommer sowie der studentischen Initiative Lucia Verlag wurden jeweils die Zielgruppen eingehender unter die Lupe genommen, um Wachstumspotentiale zu erschließen

Ein Überblick über die Aufgabenstellungen, das Vorgehen und die Ergebnisse der Projekgruppen wird im Rahmen dieser Summaery-Ausstellung geboten.
Exhibition Location / Event Location